40th REUNION PHOTOS
Below find several photos from our 40th Class Reunion on Saturday July 24th and the Birdy's get-together on Friday July 23rd.
IF YOU HAVE PHOTOS...PLEASE share them with the class by emailing them to eymers2009@hotmail.com. Please identify those in the photo. I am happy to post all that you send!
Also check out comments read at the reunion by classmates unable to attend...find these after the photos.
REUNION PHOTOS!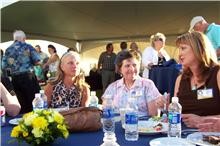 Nancy Knott Murray, Susan Peters Willden, Karla Winkleman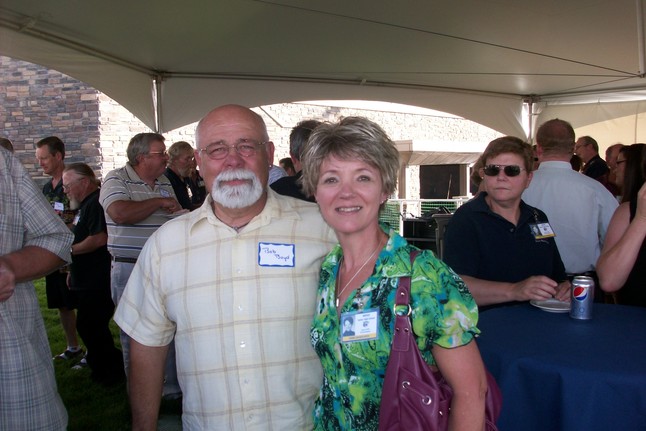 Debbie McGee Boyd with husband Bob (Marti Boyle Daniels in the glasses)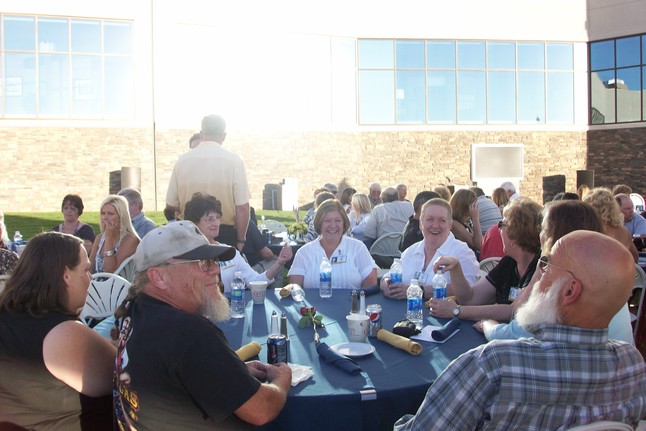 Mark & Brenda Whitlow, Roberta Cady, Judy Grim Lebahn, JoAnn Toptine Carter, Laurie Wells Schmehl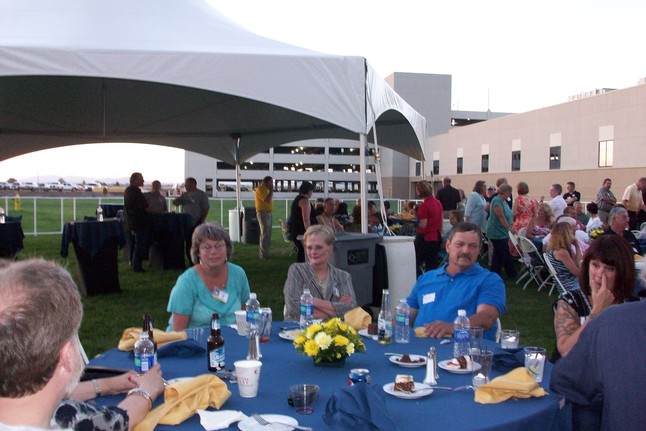 Susan McDowell, Christy Martens Gordon and husband Charlie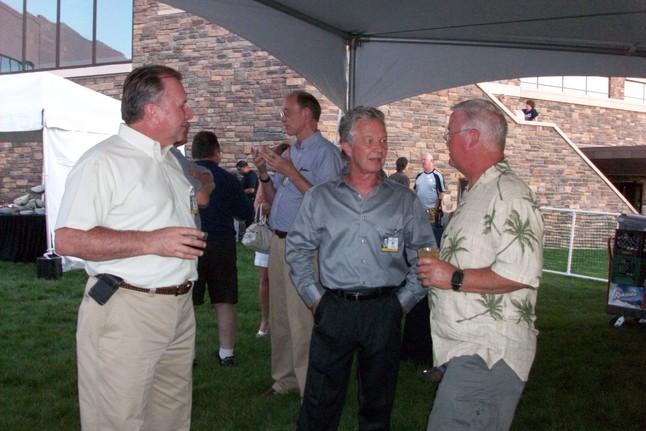 Bob Scollard, Doug Kresse, Larry Farrell, Herb Thomas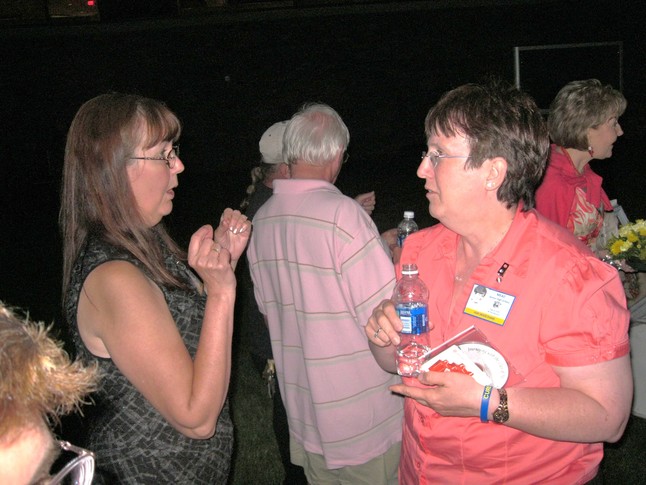 Dahn McGee Carey and Judy Rock Evans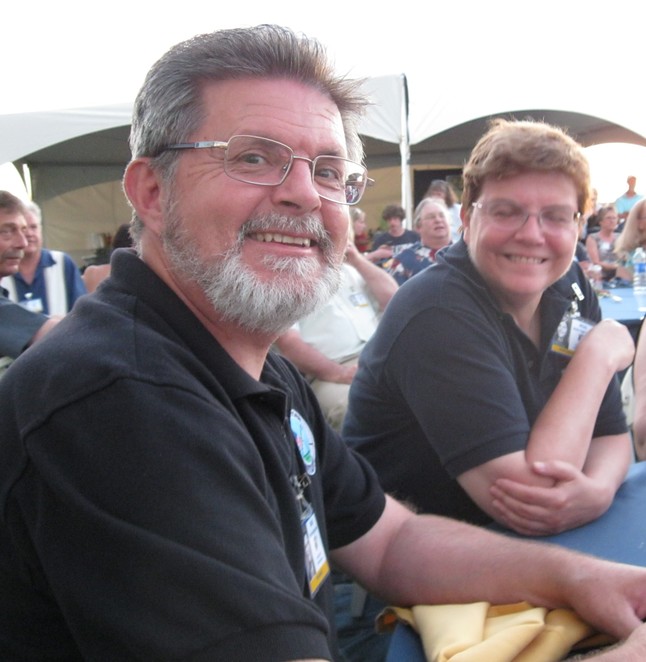 Tim and Marti (Boyle) Daniels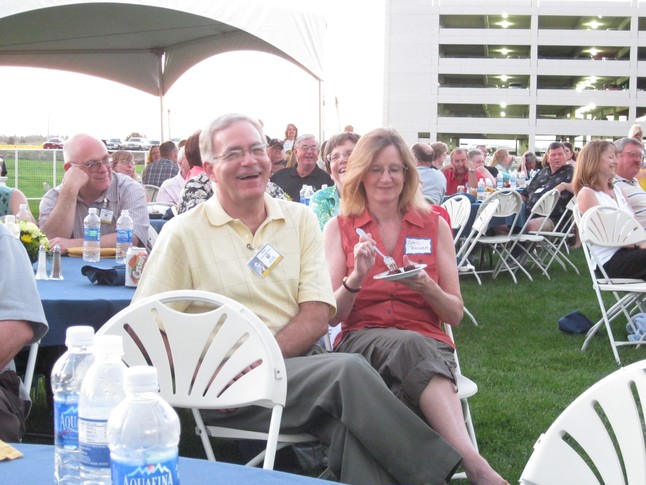 Paul and Gail Eacker
Carol Pennington with Tom Stecher, Mike Sheehan and wife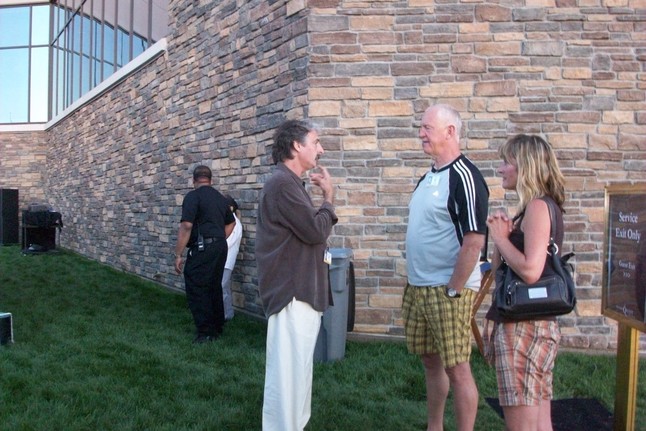 Jere Renner with Tim Arneson and his date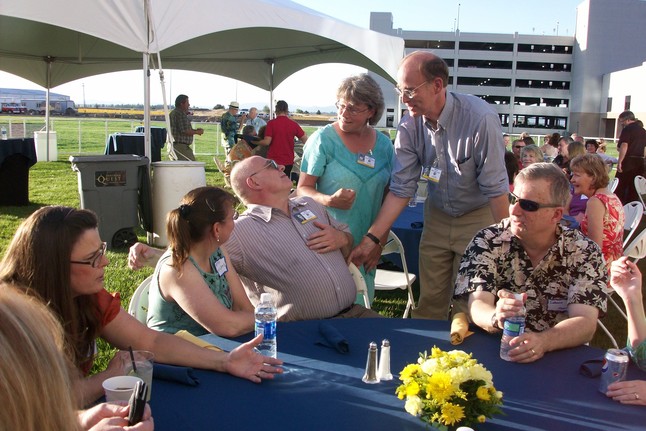 Peggy Davis Evans, Craig Williams and wife, Sue McDowell, Doug Kresse, Dennis Berhalter (Mary Boyle Berhalter's husband).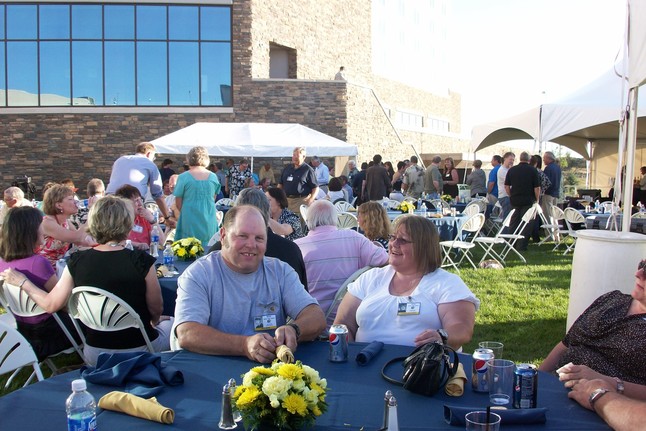 Steve Brown & Kathy Beal Brown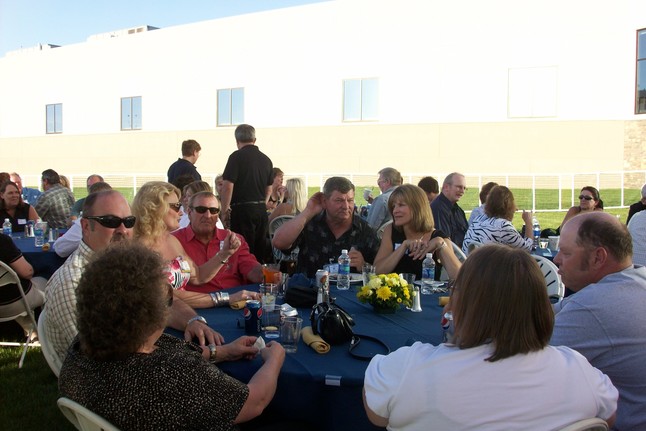 Ken & Laura Hoff, Roger &Barb Switzer Tompkins, Ray & Stephanie Golly, Steve and Kathy Beal Brown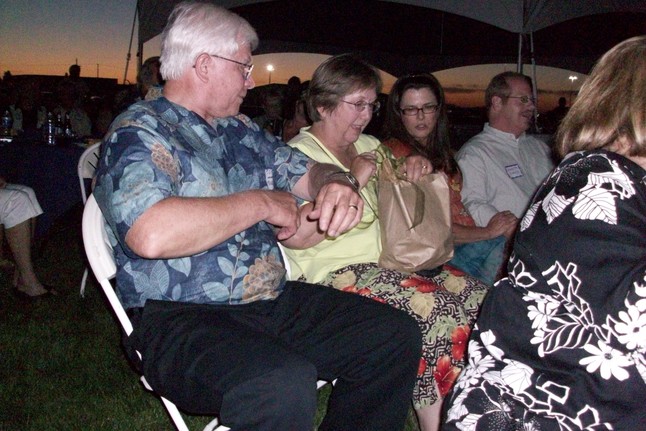 Center...Jan Moulder and Peggy Davis Evans and their husbands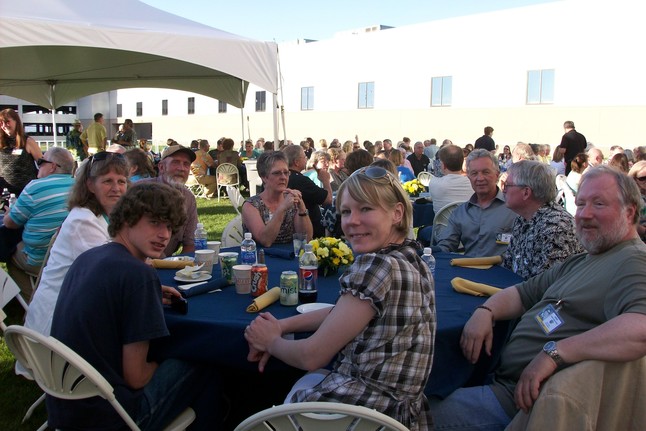 Joette Detlaff Kozlowski and guests, Larry Farrell, Steve Crofoot, Ken Green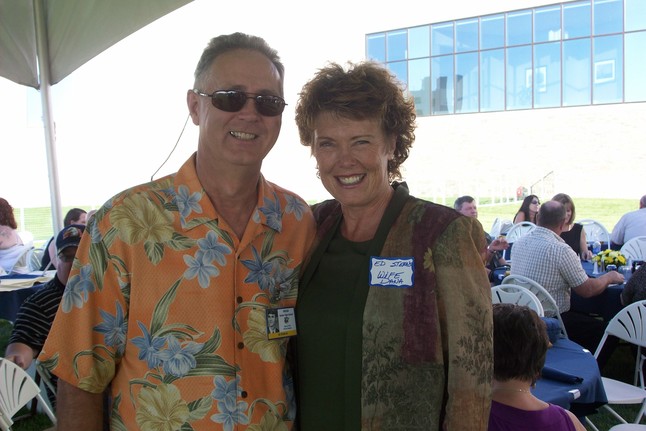 Ed and Dana Stern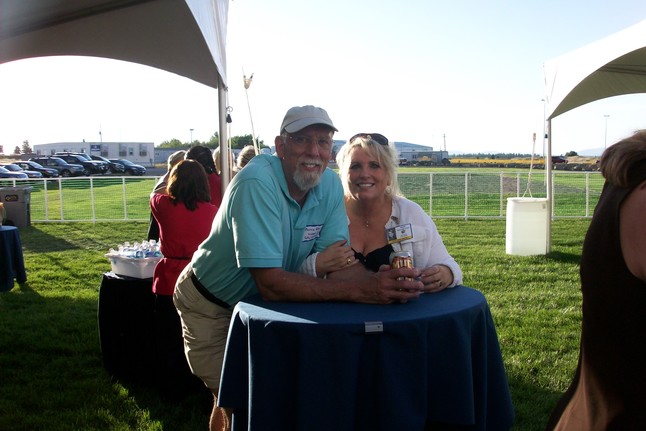 Bernie Hite with Kathy Berg Walters Hite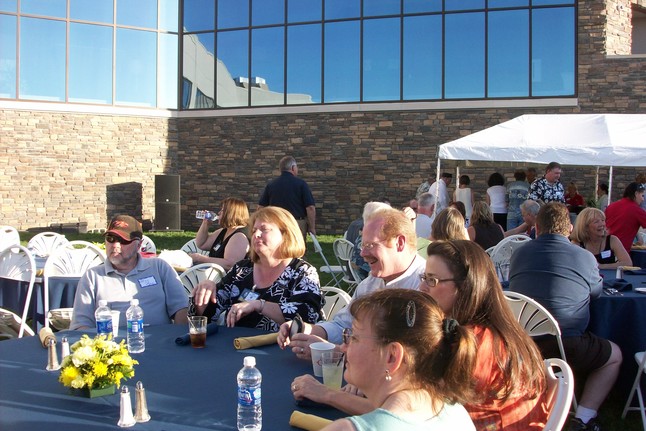 Bill and Jane Morton Ford, Gareth and Peggy Davis Evans, unidentified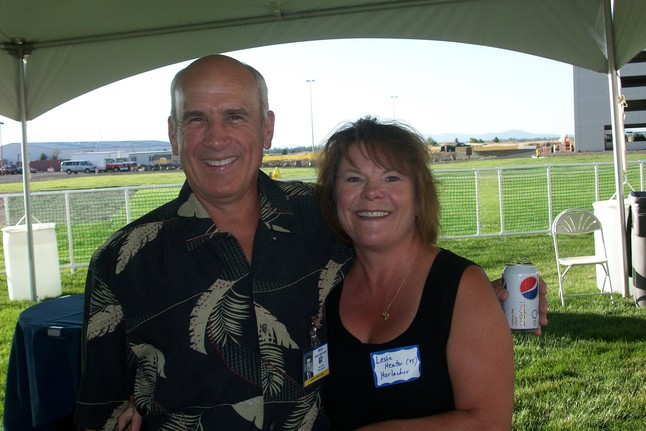 Denny and Leslie Horlacher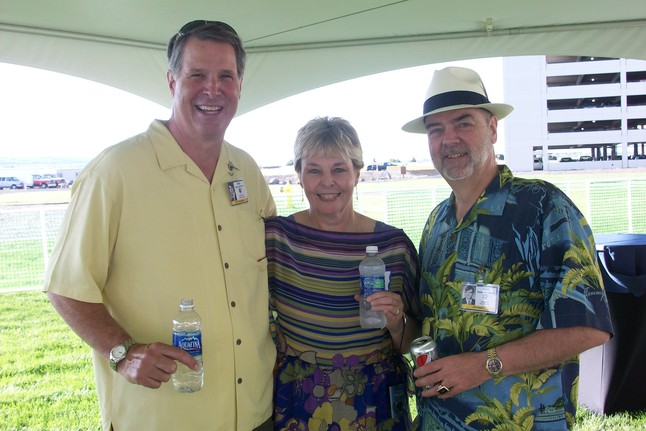 Scott Hollenbeck, Alison and Ron Farley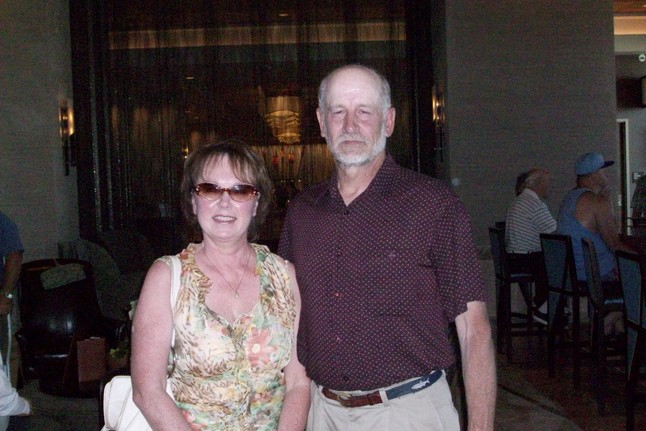 Steve Moran and wife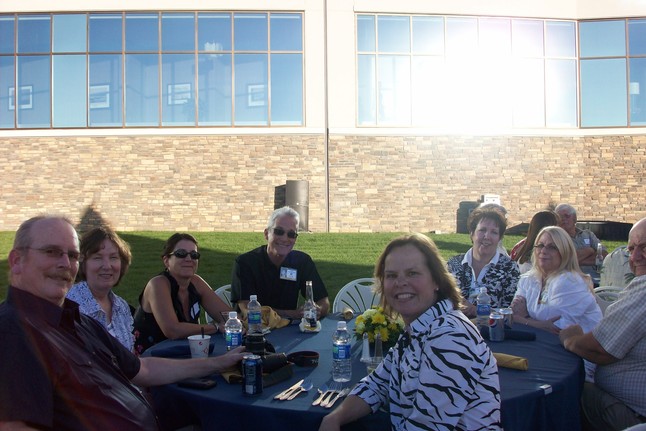 Scott & Michelle Nelson, Maureen & Randy Michaelis, Janet Buhrer, Carol Grant Maughan, Mary Dietzen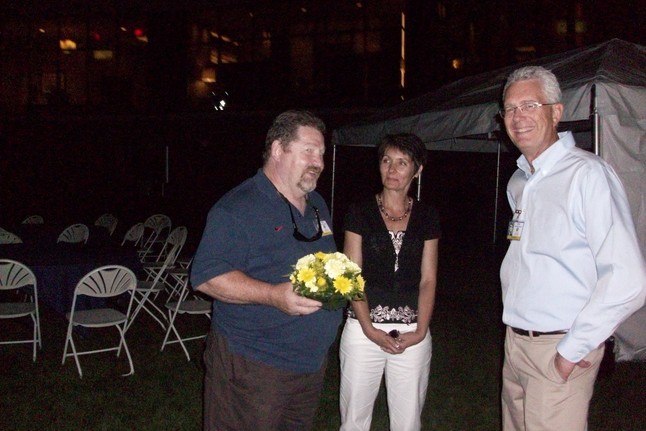 Bill Light, Karen S. Renner (Jere's wife), Dave Bingham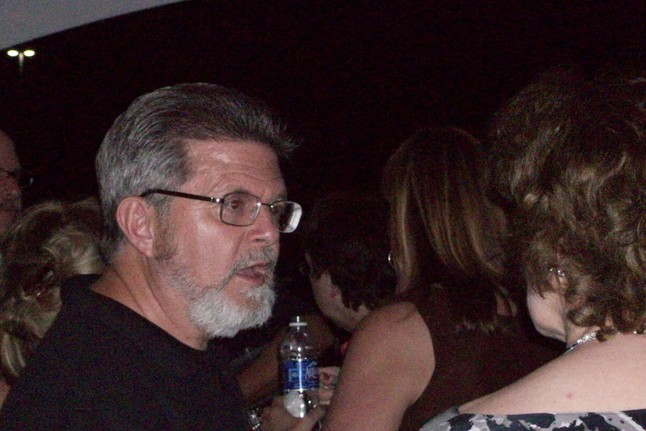 Tim Daniels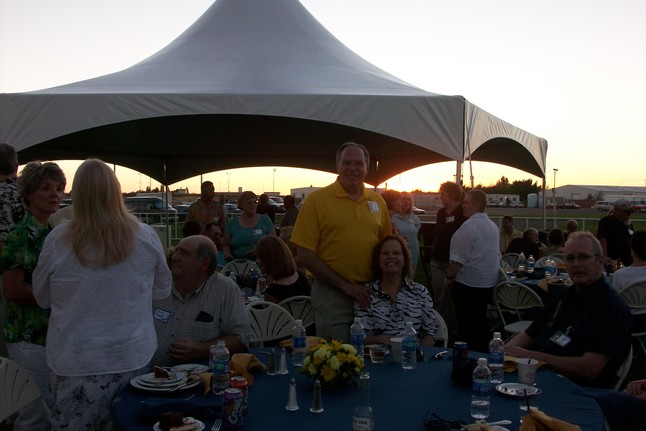 Bruce Spencer with Mary Dietzen, Scott Nelson
Dick Inhofer, Ray Golly, Leslie & Denny Horlacher, Kathy Young Eckley, Barry Peckham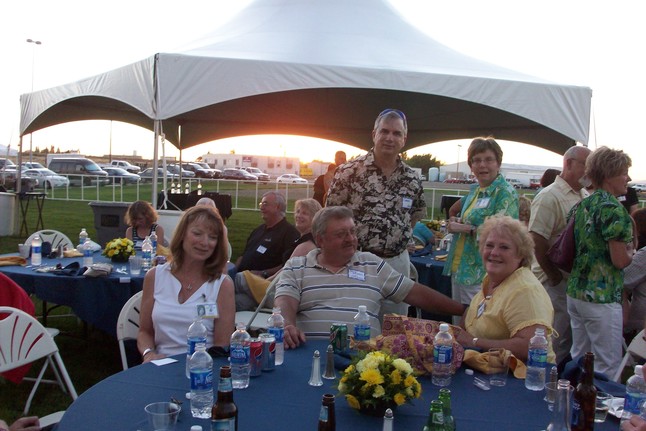 Becky Cooper South, Doug and Judy DeHate Simpson, seated
Dennis and Mary Boyle Berhalter and Debbie McGee Boyd standing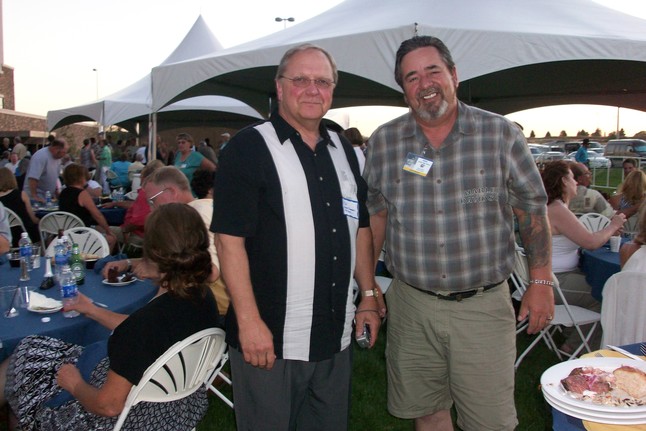 Rod Staudinger (husband ofGloria Breeden Staudinger) and Doyle Wheeler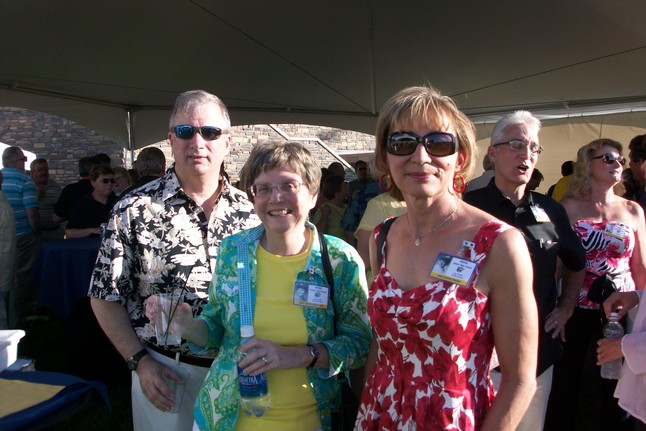 Dennis & Mary Boyle Berhalter, Chris Huhta Eriksen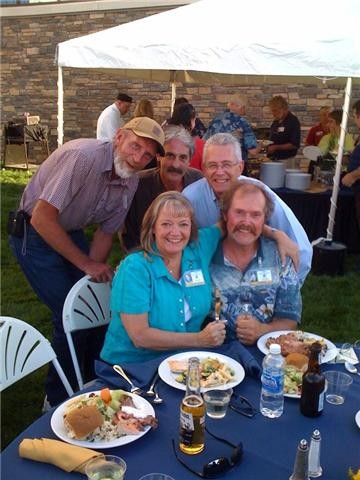 Ken Campbell, Jere Renner, Dave Bingham, Pam Anderson Hartsoch, Steve Baran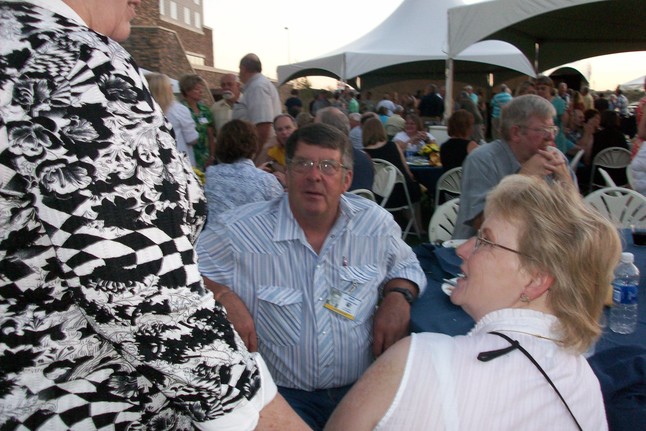 (center) Chris Peterson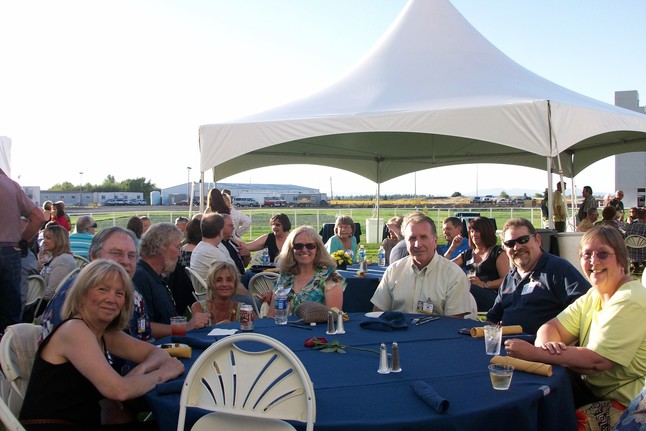 Kimm and Dave Jeffries, Vernon Smith, Kathy Young Eckley, Debbie Smith, Bob Scollard, Bill Light, Jan Moulder
Paul and Gail Eacker; Janice Wickland Lahde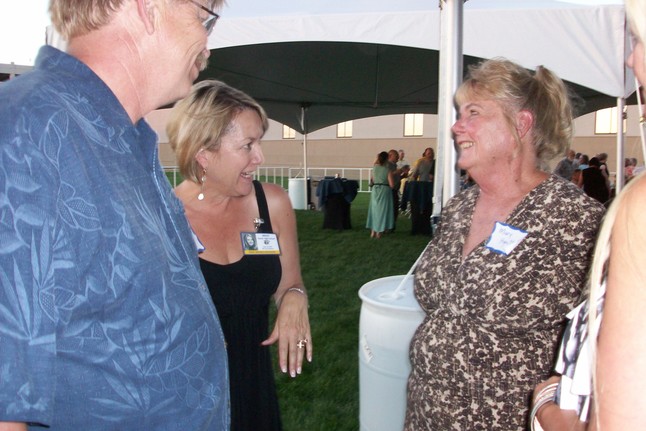 Diane Moore Critchlow and Mrs. Hyatt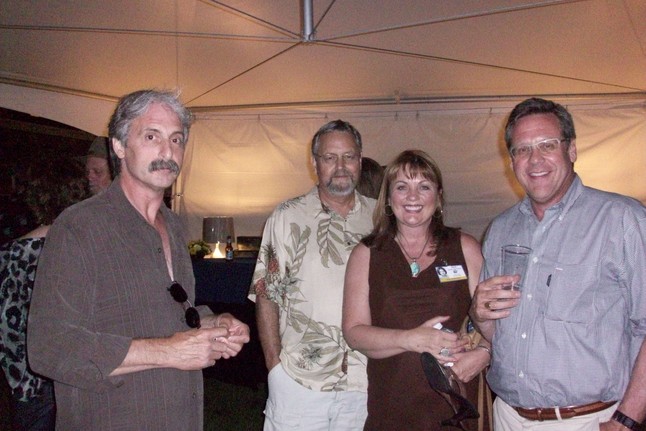 Jere Renner, Will Wolff and Karla Winkleman, Bill Main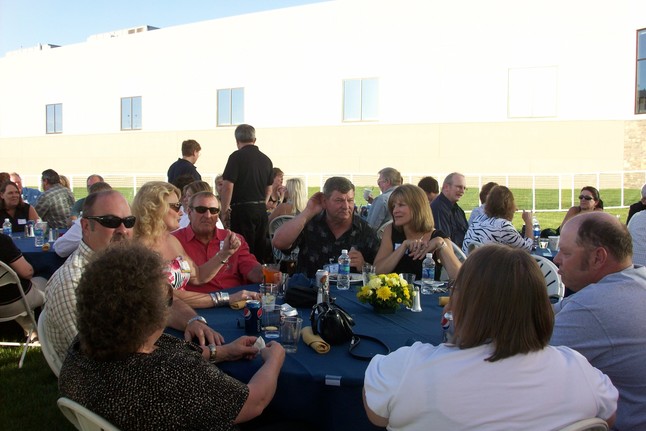 Ken & Laura Hoff, Roger and Barb Switzer Tompkins, Ray & Stephanie Golly, Steve and Kathy Beal Brown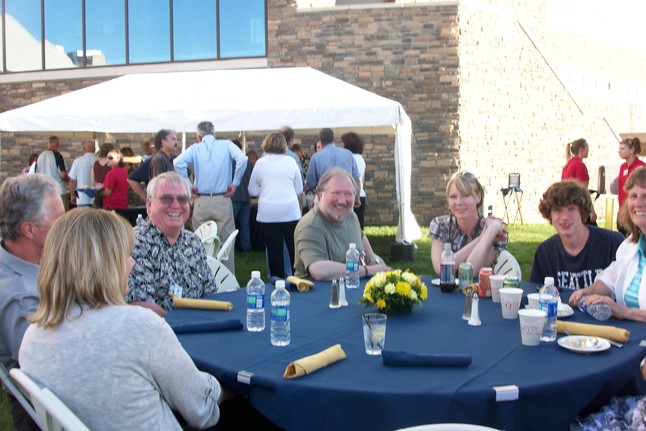 (center) Steve Crofoot, Ken Green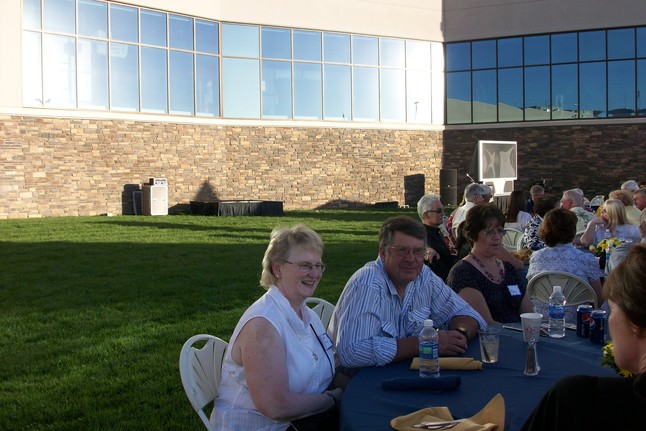 Christine and Chris Peterson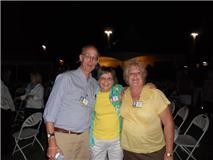 Doug Kresse, Mary Boyle Berhalter, Judy DeHate Simpson
Mike Boardman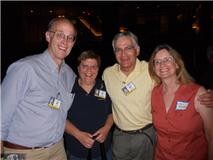 Doug Kresse, Marti Boyle Daniels, Paul & Gail Eacker
Kathy Young Eckley and Patti Young Siverstol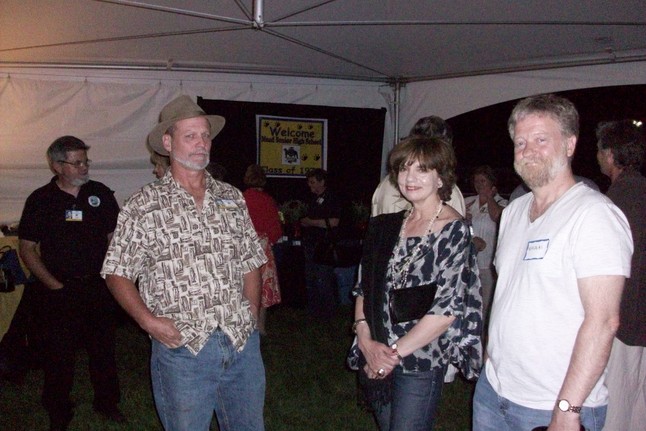 Tim Daniels, Ken Eckley, Patty and Nikolai Siverstol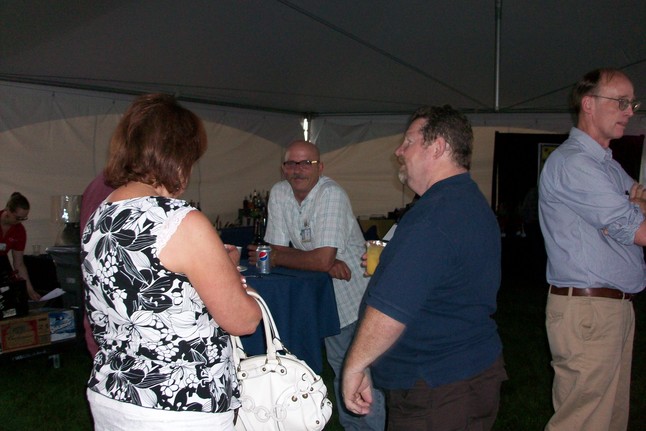 (center) Barry Peckham and Bill Light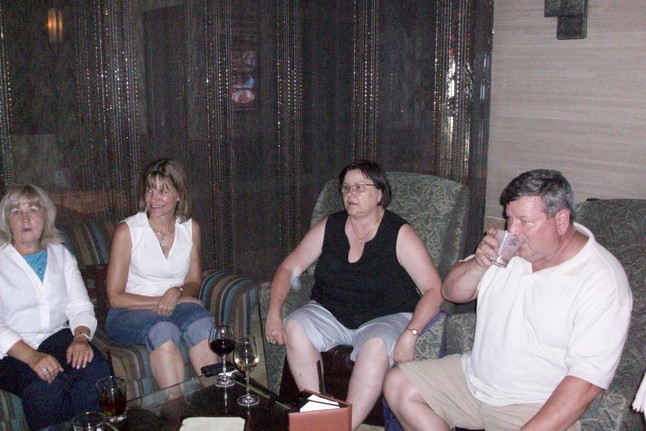 (Pre-Function (!) Sandie DeFreese Eymer, Stephanie Golly, Gloria Breeden Staudinger, Ray Golly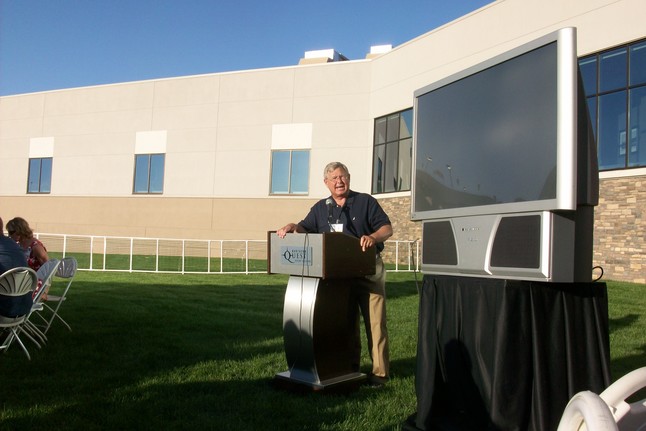 The Program...Scott Eymer getting things underway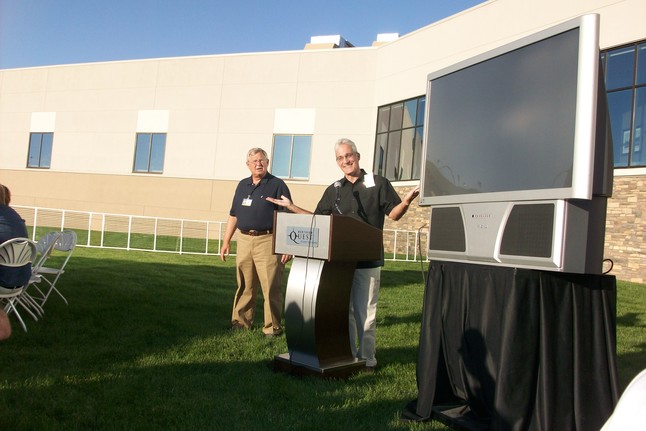 The Program...Scott Eymer, Randy Michaelis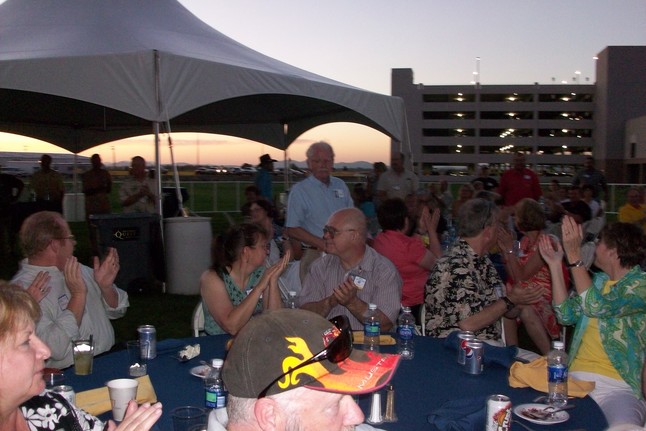 The Program...recognizing those who served in the United States Armed Forces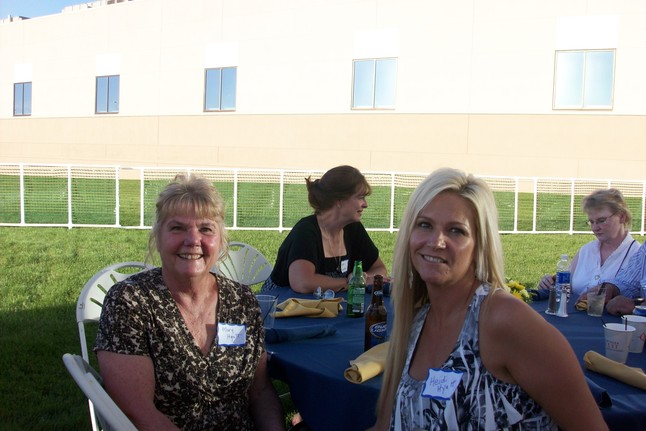 The Program...recognizing Mrs. Hyatt (celebrating 50 years of teaching) and daughter Heidi (who was born during the first week of our senior year)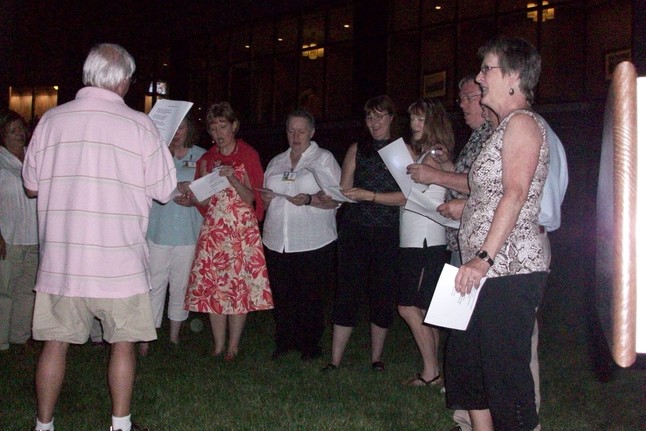 The program...members of the choir sing out!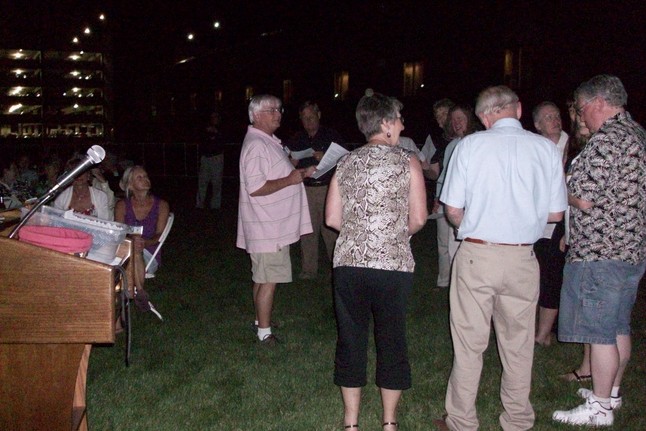 The Program...Choir singing in the dark!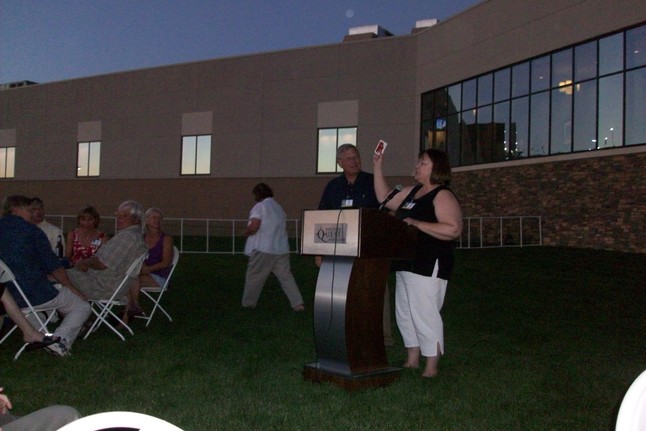 The Program...Scott and committee chair Vicki Plumb Jeffries with another door prize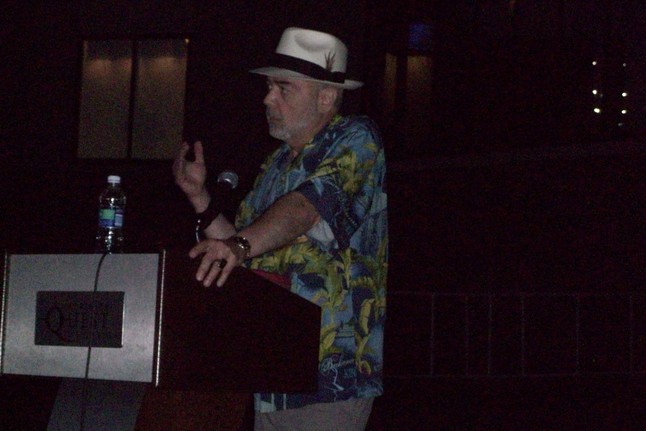 The Program...Ron Farley makes a point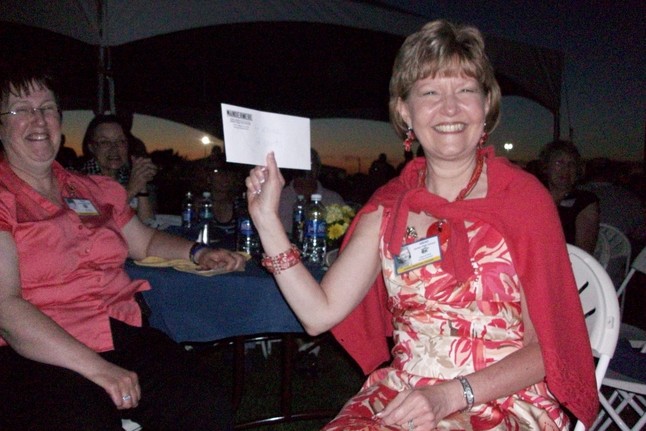 The Program...Judy Rock Evans looks on as Karen Barton Collier wins a golfing door prize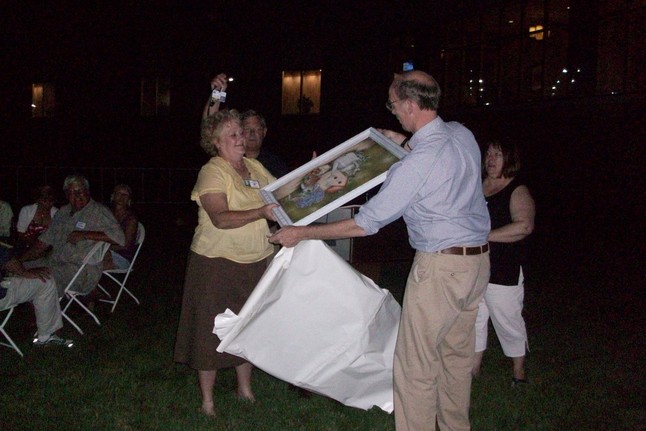 The Program...Judy DeHate Simpson presents a prize of original artwork to Doug Kresse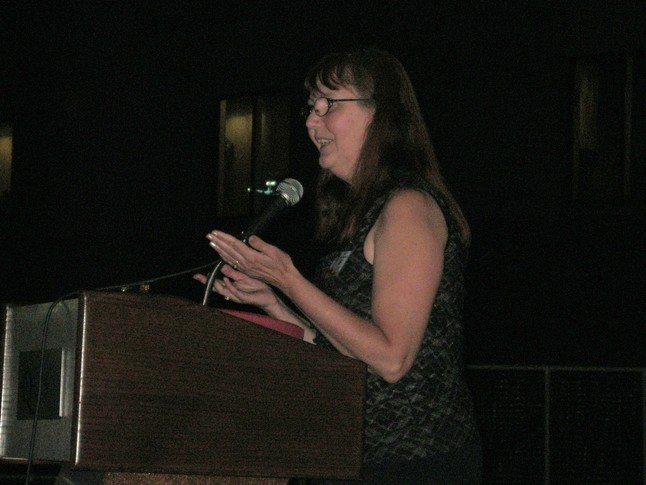 The Program...Dahn McGee Carey presenting the video!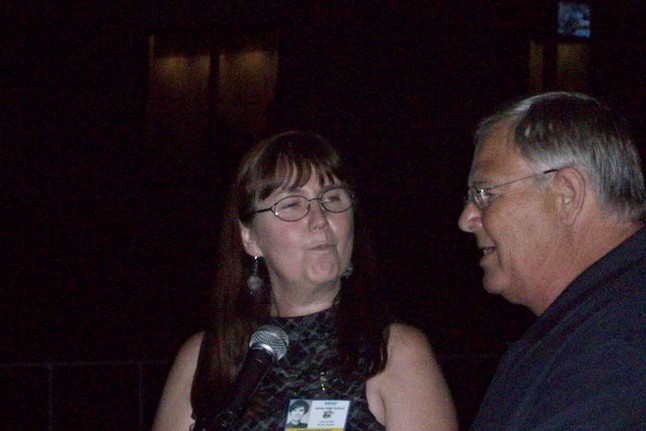 The Program...Scott thanks Dahn McGee Carey for the hundred hours she put into the video presentation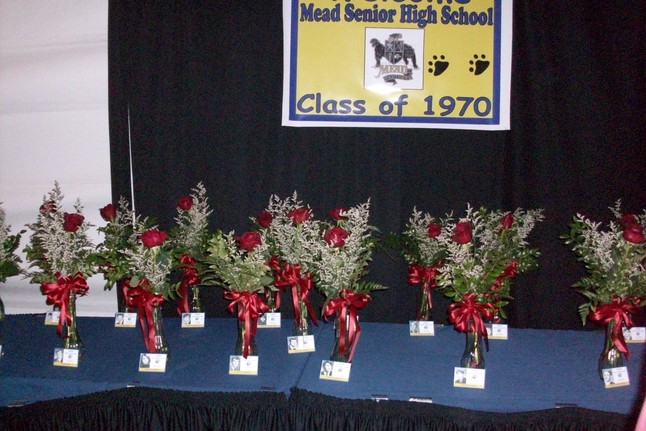 Beautiful Memorial Table thanks to Marti Boyle Daniels
Raising Money for the Website! Scott Eymer selling DVD's to Judy Rock Evans and Steve Crofoot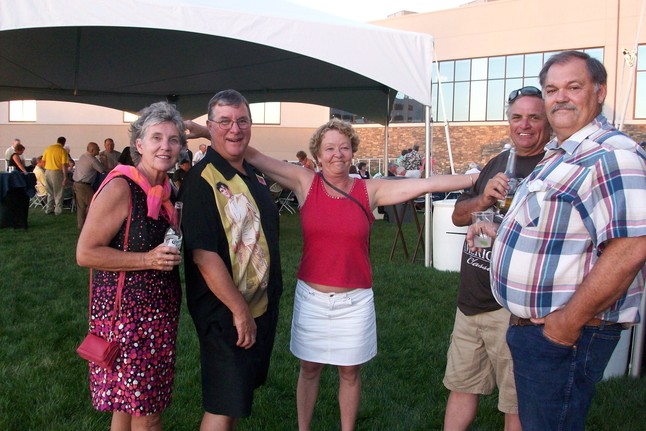 BUSTED...Members of the class of '69 invade Northern Quest!
Mary Laws, Lenny Cordell, Patty (Mott) Cordell, Lyle Hattenberg, Bob Kellogg
RANDOM PICS with people not yet identified...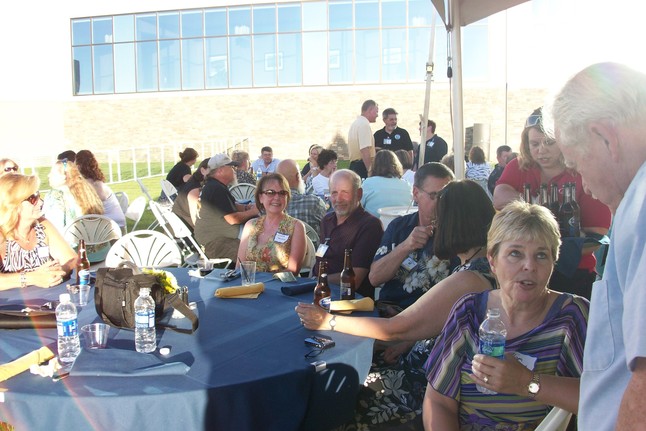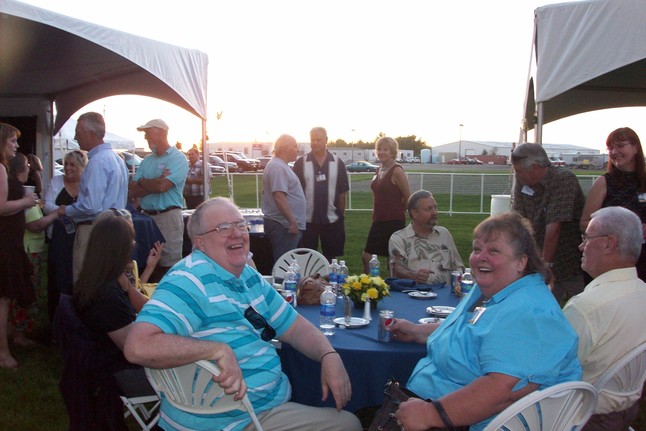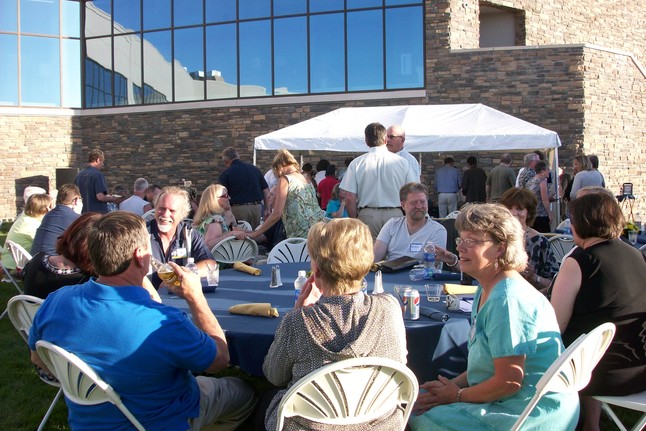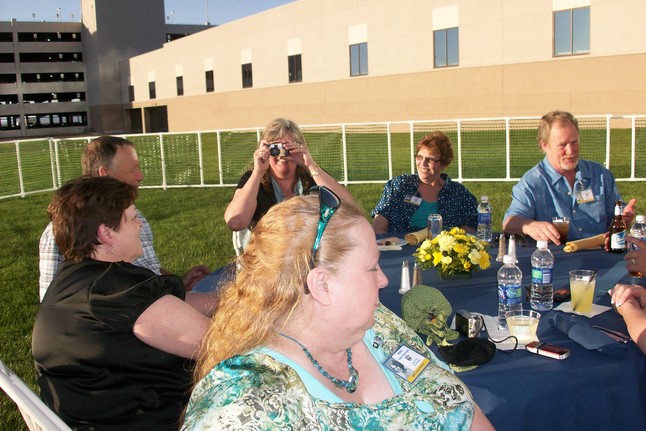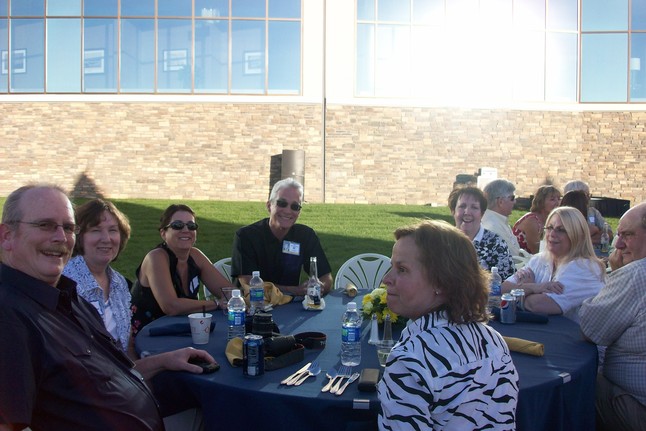 Comments read by Scott Eymer at the reunion from some classmates not able to attend:
What I am struck by the most when reading about people's lives since graduation is how everyone has become more interesting! People are living genuine and challenging lives. Yeah, sure, we've gone through tough times: getting divorced, changing directions in our lives, raising kids, or staying married for decades! None of it was easy.
Many people stayed in the Spokane area, but others spread all over the world. You just never think where you'll be in 40 years when you are 18 and graduating. Your future is a blank slate and you are so open for adventure and living life to its fullest. Some of you might think, well, I didn't do anything great or earth shattering, but you worked and provided homes for your families and you dared to love and love again. We were the children of the Love Generation, remember? and we didn't really know that much about it! It was more than beads and peace signs. It takes a lot of stamina to love. As someone who has been married three times, I know what its like to lose and love again! I noticed that a lot of you had zillions of kids. That takes a lot of energy and a singular kind of devotion to others. I have two myself and I know that each child is a story.

I guess I want to say that I am fascinated by all of your stories. As a writer, I'm always curious, or nosy, depending on how you look at it. Reading about your lives made me want to know you as you are NOW, people who have lived and gotten a little roughed up around the edges. People who are infinitely more interesting than 18 year olds!
I was kind of a shy, introspective girl who didn't quite fit in. I learned how to get past my shyness and have spoken to hundreds of people as a writer and teacher. I loved traveling and meeting new people and cultures. Now, I pretty much stay at home with MS and it's tough. Not only are there physical problems but a social isolation that is hard to endure. So you all have to party twice as hard so I can vicariously enjoy the reunion. I think you're up to it and I expect to have a good time via the class of 1970!

Doug Houser:
Warmest wishes to my friends and classmates; it is over 100 degrees here on the Jersey shore, not counting the humidity. It has been great to catch up with some of you or at least find out what you have been doing. Once again I find myself thousands of miles away and wishing I was with you. But, waxing philosophical, I have found many times that situations I would not have orchestrated for myself end up being part of some larger theme of greater good. God bless you all; with Him, all things are possible; in the love of Jesus, see you in 2020,
Wow....this has been a real trip getting reacquainted through the fabulous "Scott-site"! Wish I was there to see everyone in person and enjoy the great Spokane weather, but the timing just didn't work. Since my family moved from Spokane in 1975, I haven't been back much. I'd love to hear from any of you and send my warm thoughts.

Thanks to Vickie Plumb Jeffries for all her efforts to reach out and find "us".

A HUGE thanks to Scott for all the time and effort he put into building and maintaining the website. We owe him a great round of applause.
Love to all,

Tim Swenson:
Today I've decided to return to work for the Texas prison system, gonna double-dip for awhile, would have loved to return to Spokane for the reunion...another day, my friend. Give every one my best! Thank You Scott.
Joel Wells:
Greetings to the class of 1970 from across the big pond. I am sorry I can not be with you to celebrate the 40th reunion but my wife and I are in South Africa where we spend half the year serving as missionaries.

I would like to say thank you to everyone who has put this website together and done so much to make this reunion happen. Thank you Scott, Sandy, Vicky and the rest of the team. I have enjoyed reading all the profiles and seeing all the pictures. Wow, all of you guys have really aged!

By this stage of life we have lived enough life to actually know a little bit about life. We have suffered sorrows, had great joys, had our children, are experiencing grand children and are now looking at the end of our careers or in my case the beginning of a whole new career. One of the great joys my wife and I have had is to actually sit down and put together a bucket list. We are enjoying the opportunity of seeing what this great big world has to offer. If I can say anything it would be to see for yourselves what is out there and experience the history and amazement of this world.

I wish I could be there but we do not return to Spokane until the end of October this year. Please send me an email and we will have a cup of coffee over the holidays.
Vickie Loveless Barnes
Hi, Everybody,
I wish I could be there with you this weekend. Thank you all so much for sharing your life experiences and pictures on the class website. It has been great getting to know everyone again via the Net. You were an amazing bunch in high school. That obviously hasn't changed. You are still amazing, accomplished, and caring. I am proud to be a member of the Mead High School Class of 1970 and to call you friends. Have a wonderful time at the reunion. I'll be thinking of you.
Sorry gang, we cant make the reunion. I am so sorry to miss this one as it sounds like great fun. Will try to connect next time i come over to visit my brother Dave who is the only one of the family living in Spokane now.
Have a great time and I hope all of you are well.
all the best,

FRIDAY NIGHT GET TOGETHER AT BIRDY'S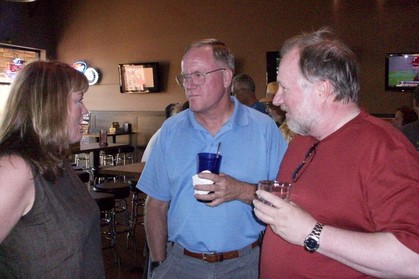 Karla Winkleman, Mike Boardman, Ken Green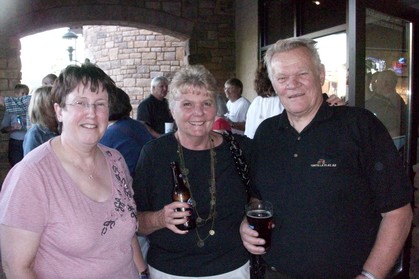 Judy Rock Evans with Mary and Fred Hyatt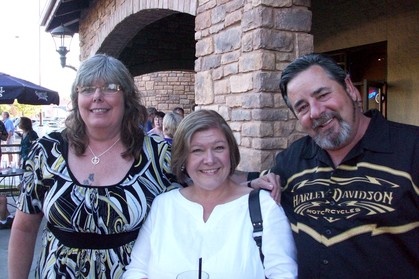 Barb Simpson Arnold, Judy Grim Lebahan, Doyle Wheeler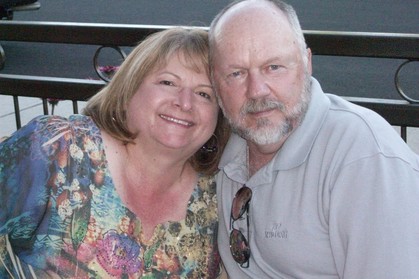 Jane Morton Ford and husband Bill Ford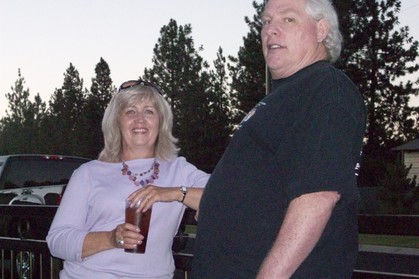 Sandie DeFreese Eymer and Greg Knudtson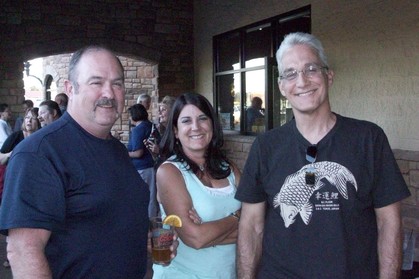 Ken Hoff with Maureen and Randy Michaelis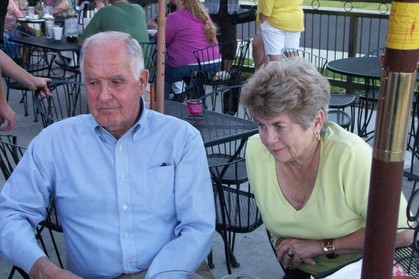 Mr. and Mrs. Gordon Brunette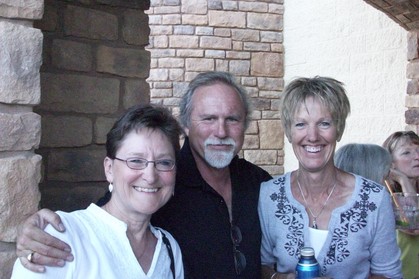 Colleen Hunt Wood, Mike Gwynn and Anita Baker Spencer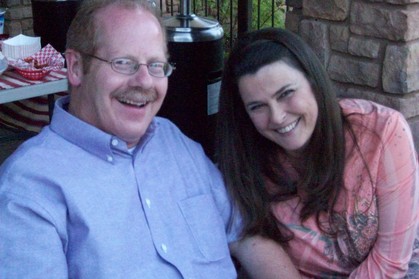 Peggy Davis Evans with husband Gareth Evans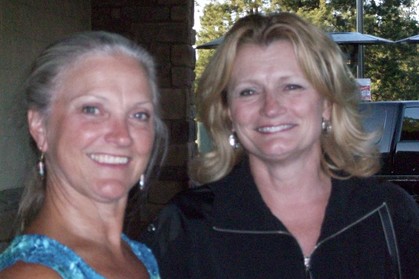 Nancy Knott Murray and Barb Switzer Tompkins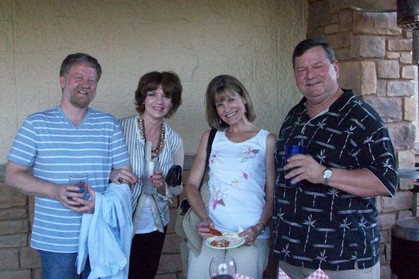 Patty Young Siverstol & husband Nikolai with Stephanie and Ray Golly




www.mead70.com